London, 16 December 2013. Following the first meeting of the International Olympic Committee's Executive Board under its new President, Thomas Bach, the IOC announced – among other things – that it would encourage future bidding cities to make the broadest possible use of temporary and/or demountable facilities (IOC press release, 14 December 2013).
This is the start of a year-long review period for the IOC, in which sustainability and legacy issues will feature prominently.  The initial focus on promoting temporary over permanent venue solutions is an important step.
One of the most serious indictments of the Games over recent years has been the issue of host cities creating over-sized and over-engineered sport facilities at great cost but without viable legacy plans. Nowadays the emphasis is very much on sustainability and that means taking proper account of cost, community interests and environmental impacts.
While the IOC chiefs were deliberating in Switzerland, the London Legacy Development Corporation simultaneously announced the completion of the exterior refit of the London Aquatics Centre (see LLDC press release 13 December 2013).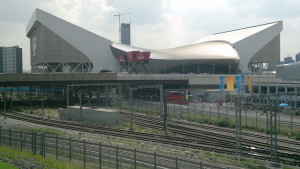 This is a fascinating building. Its spectacular wave design by Zaha Hadid was one of the features of London's Olympic and Paralympic bid in 2005.  However, for its Games-time incarnation the architectural beauty of the Aquatics Centre was masked by two temporary wings on either side, which provided an additional seating capacity for 15,000 spectators. The temporary wings were impressive in their own way and served a valuable purpose for the Games, but now they have gone we can begin to see the original intended form of the permanent facility.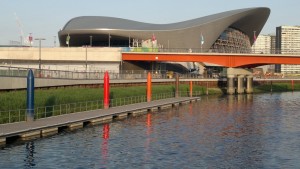 In Rio de Janeiro, host city for the 2016 Olympic and Paralympic Games, they are taking things a step further with their concept of 'nomadic' architecture. They have a new structure that for the Games will be a temporary venue for Handball, and afterwards it will be dismantled, relocated and reformatted in sections to create four new local schools, each housing 500 pupils (see Rio 2016 press release).
All this is about flexible and adaptable design to achieve great facilities for the Games and appropriate legacy uses for the long-term, which has to be a good thing.  Of course, while the direction is clear, there is a lot more to understanding temporary design than throwing together a few pre-fab units with scaffolding and tents.  The design and engineering complexity of temporary structure can be mind-boggling, and they pose significant challenges in selection of materials, temporary power solutions, installation and dismantling to name but a few.
For anyone working in this field I can recommend you take a look at LOCOG's Temporary Materials Guidelines as a useful starting point.