Surrey, 22 April 2015 –
Every now and again I get a pleasant reminder that all the work people have been doing to advance sustainability through sport is gaining momentum and being noticed.
Last year I was pleased to hear that the famous French tennis venue, Roland Garros, had achieved certification to ISO 20121 Event Sustainability Management System. The award recognised the policy implemented by the French Tennis Federation in this respect and was a first for an international sporting event in France.
While on the subject of ISO 20121 and France, l am told that the city of Paris aims to become compliant with the standard for all its sport events, and likewise the French government intends the same for the COP21 climate summit at the end of this year.
More recently there was a great example from Barcelona involving sailing: The Barcelona Foundation for Ocean Sailing (FNOB), organiser of the Barcelona World Race, has become the first international regatta and the first event in Spain to receive ISO 20121 certification.
All this is heartening legacy from the London 2012 sustainability programme. Of course before we get too excited about standard certification, this is only one part of the picture, albeit a good proof point that those organisations are doing something about sustainability. What really counts is what they actually do to make their events more sustainable, and even better if they report on what they achieved and what they learnt along the way.
Last month I attended the first annual meeting of the newly formed Association of Global Event Suppliers – a trade organisation that brings together many of the major companies involved in event overlay construction and other key services. Again good to see that sustainability is high on their agenda; all we await now is to see tangible actions.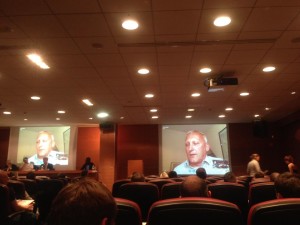 Moving right up to date, today I participated via Skype link in a special seminar on Sport and Sustainability organised by the Fédération Française de Football and the Mission Sport et Développement Durable of the French Ministry of Sport. Nearly three-years on and yet still there is strong interest in how London 2012 went about its sustainability programme, particularly in understanding the business case we established.
Odd though, there is little such interest being shown by UK and London governments. What a shame that a key part of the sustainability legacy of London 2012 is slipping through our fingers, while it is developing apace elsewhere. But at least it is living on in many other places and that is keeping me plenty busy these days.