10 April 2014
"Weaving together the environmental, social and economic aspects of an event to create a new sustainable experience."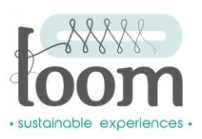 That is the headline message from 'Loom' a new Spanish consultancy entering the sustainable events market.  I think it's great that more sustainability professionals are seeing opportunities in this field.  I also like their pitch based on improving the experiential quality of events by embracing sustainability; it's a more engaging angle for sure.
Gratifyingly, they also make strong reference to the advent of ISO 20121 (and its origins from the London 2012 Olympic and Paralympic Games), in which they assert that the new standard has created momentum towards sustainability in the event sector.  Of course, they acknowledge there is a long way to go and they want to be part of this change agenda.  I wish them every success.
The founders, Sol and Maite, kindly invited me to do an interview for their new blog which I hope you will find of interest.