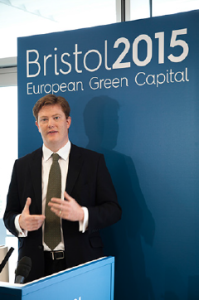 Bristol, 25 April 2014 –  Next year Bristol will be the first UK city to carry the title 'European Green Capital'.  The year-long appellation is a prestigious award from the European Commission for cities that are leading the way in facing up to the contemporary challenges of climate change, resilience and sustainability in general.
A year of events, activities and projects will highlight the city's achievements to date and also provide a focal point for new initiatives to place Bristol at the forefront of UK efforts in the global debate on 'future cities', and to be a springboard towards the all-important UN Climate Summit (COP 21) in Paris in December 2015.
While it is impressive what has already been done in Bristol – and the city's continuing plans in this field under the charismatic leadership of its elected independent Mayor, George Ferguson – the wider implications of Bristol's concept of 'Laboratory for Change' must be the key reason behind the UK Government's enthusiastic support for the programme.  This culminated on 25 April 2014 with the announcement at a press briefing in Bristol by the Chief Secretary to the Treasury, the Rt Hon Danny Alexander MP, of a £7m funding package for the Bristol 2015 programme.
Throughout this last month I have been working with the nascent organising committee, Bristol 2015 Ltd., to help them develop their initial Sustainability Plan.  As the company specifically established to coordinate and delivery the European Green Capital 2015 programme, Bristol 2015 Ltd clearly needs to be able to walk the talk on sustainability.  Now if the idea of a brand new start-up with a remit to host and organise a whole series of events in a sustainable manner sounds familiar, you will understand why I am so interested in this project.
Indeed, quite a few people at the briefing on 25 April referred to Bristol 2015 Ltd as a kind of mini-LOCOG, and although the scale and remit are different, there are many similarities.  For me, therefore, this is an exciting opportunity to take forward some of the learnings from London 2012 and in particular to re-energise our sustainable event legacy.